Innovative. Talented. Energetic. These words are often used to describe the members of the inventive band, Big Blitz. Based out of Pittsburgh, PA, this group was born from the musical genres of dance, rock, and jazz improvisation. This creative, dynamic trio is comprised of Lucas Ciesielski (tenor and bari sax), Nick Grabigel (drums and guitar) and Mason Ciesielski (tenor sax and modular synthesizer). Inspired by the sounds of saxophone-and-percussion-based bands known to busk in the subway stations of New York City, Big Blitz's members write and perform their own original tunes which contain a powerful, electrified and hip sound. Big Blitz is guaranteed to transform any of your preconceived notions of the music that can be created by a saxophone-and-drum trio.
​
Big Blitz has performed at major venues and festivals in the Pittsburgh, PA area and nationally. Big Blitz has appeared with both internationally and nationally touring acts, including Moon Hooch, Too Many Zooz, Lucky Chops, Tim Reynolds (lead guitarist for Dave Matthews) and TR3, Bob Lanzetti (founder of Snarky Puppy), Ripe, Joe Hertler & The Rainbow Seekers, Sister Sparrow & The Dirty Birds and The Funky Dawgz Brass Band.
Lucas Ciesielski: Tenor & Baritone Sax
Nick Grabigel: Drums & Guitar
Mason Ciesielski: Tenor Sax & Modular Synth
Big Blitz members include sax brothers Lucas and Mason Ciesielski and drummer Nick Grabigel. Members met while attending Burrell High School (located just north of Pittsburgh). The band hopes to inspire others to create original music and show young musicians the opportunities and pure joy that music can provide.
In November of 2017, Big Blitz released its first, self-titled EP. Since then, the band has seen its music grow in popularity with both a national and international audience. The Big Blitz EP is available for purchase or streaming on all major digital media websites, including iTunes, Amazon Music, Google Play Music, YouTube Music, Spotify and CD Baby.
​
Big Blitz will continue to build their discography. Recording of a full studio album has started with an anticipated release in early 2020.
More videos on our official YouTube page.
Big Blitz will perform all original instrumental music. Our music is up tempo and energetic with a dance beat that will surely get people moving. All ages will enjoy the show! The band will use our standard configuration that places the drum set center stage. Saxes are positioned stage left and right with open space in front of drums for sax dueling. Saxes are "plugged in" to guitar pedals for enhanced effects. A synthesizer and guitar may also be added to create an immersive musical experience.
The saxes use a wireless mic system (provided by Big Blitz) that allow the band to move freely and interact with each other and the crowd. At times, members of the band will play multiple instruments. The song "2 Sax" was fittingly named as one of our sax performers play both the tenor and baritone sax at the same time (much respect to Rahsaan Roland Kirk)!
News and Headlines
Moon Hooch w/Big Blitz
---
On November 23, 2019, Big Blitz opened for Moon Hooch's Fall 2019 Tour stop at Mr. Smalls Theater in Pittsburgh, PA. The bands played to a packed house and performed a joint encore to a cheering crowd to close out the evening. ​ Moon Hooch continues to be a powerful and positive influence to Big Blitz. In August 2019, Michael Wilbur (of Moon Hooch) joined Big Blitz for a live performance of the song "Techno Improv Jam Space" at Fete Music Hall in Providence, RI. Check out the video.
---
Big Blitz at Youngstown State University
---
On October 18, 2019 Big Blitz was invited to speak and perform at Youngstown State University for the students and faculty of the Dana School of Music. The band discussed their history, musical influences, creative process and experiences. The presentation included performances and demonstrations of Big Blitz music and instrumentation.
---
Bob Lanzetti w/Big Blitz
---
On October 27, 2019 Big Blitz opened for the incredible Bob Lanzetti at the Thunderbird Cafe and Music Hall in Pittsburgh, PA. You probably know Bob from his incredible work with the Grammy Award-Winning jazz/funk collective, Snarky Puppy. Check out Bob's U.S. tour and debut album "Whose Feet are These That are Walking."
---
2019 Columbus Jazz & Rib Fest
---
Big Blitz was invited to perform at the 2019 Columbus Jazz & Rib Fest in July 2019. The band performed a 90-minute set on the Genoa Park Stage ​ The Columbus Jazz & Rib Fest is an annual three-day music and food festival located in downtown Columbus, OH. 2019 festival attendance eclipsed 375,000. ​ The 2019 music lineup included the Squirrel Nut Zippers, Brian Culbertson, Norman Brown, Robert Randolph & the Family Band and The Soul Rebels.
---
WRCT Radio 88.3 FM
---
Big Blitz was a feature act as part of Pittsburgh's 88.3 FM Massive Music Weekend. ​ Big Blitz performed a live in studio set. A recording of this performance is available on our official Sound Cloud page. ​ Big Blitz on WRCT Radio
---
Big Blitz at Honk!TX
---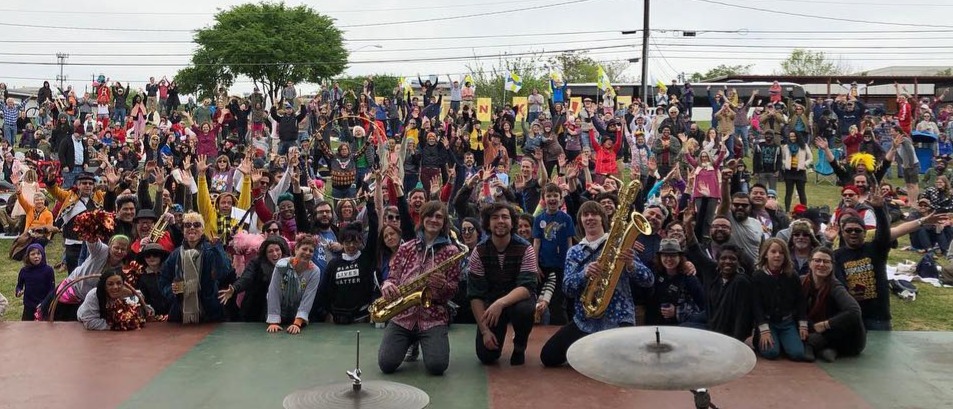 Big Blitz was proud to represent Pittsburgh as a feature performer at the international HONK TX! music festival in in March of 2019. This thee-day festival is held in Austin, TX. The band performed numerous times at various music venues and city locations during the festival weekend. ​ HONK TX! is a community-driven festival that brings street and brass bands from around the world to perform multiple times at various locations in the Austin, TX metro area. "You would not expect so much power and variety to come from a noise-jazz combo " - Malixe Photo
---
Pittsburgh Tribune-Review Article
---
Pittsburgh Tribune-Review Newspaper writer Joyce Hanz interviewed and published an article on Big Blitz summer touring plans in the Sunday June 3, 2019 edition of the Pittsburgh Tribune Review - Valley News Dispatch. The article includes interviews, pictures and performances by the band. ​ The article was also published on the Trib Live website and can be viewed here!
---
2019 Columbus Arts Festival
---
Big Blitz was invited for a second consecutive year to perform a the 2019 Columbus Arts Festival in June. The band performed a 60-minute set on the Bicentennial Park Main Stage. ​ The Columbus Arts Fest is an annual three-day music and art festival located in downtown Columbus, OH. 2019 attendance was just under 500,000. "Today at the Columbus Arts Festival, I sat in the presence of genius...Thank you for sharing what you do with us" - Jeff Schneider
---
Pittonkatonk 2019
---
Big Blitz was proud to be invited back in May for a second consecutive year to play Pittsburgh's premiere outdoor brass/street band festival: Pittonkatonk. ​ Pittonkatonk is music without boundaries, creating events, performances, and actions that promote music as a catalyst for positive social change. The festival features music from both national and international artists and bands. "Big Blitz...They're my new favorite band!" - Billy Dave Wammo
---
Charitable Work
---
Big Blitz is proud of the charitable work and performances we have done every year since inception. ​ Charities supported by Big Blitz include: The American Cancer Society Walk for Life, Highlands Area Relay for Life and the CSAY Northmoreland National Night Out (for local police departments, first responders, and community resources). ​ If your charitable or community organization is in need of a musical performance, contact us. We would love to help!
---
Blue Sky News announces Big Blitz selection for @JetStreamFest
---
Pittsburgh International Airport announced Big Blitz as their selected performer in the Blue Sky News for the May 6, 2020 National Jet Stream Music Festival. Blue Sky's audiences include passengers, airline and concessions providers, community partners, team members, airport stakeholders and the local, national and international media. (photo by Beth Hollerich) Check out the full article here!
---
Tim Reynolds and TR3 w/Big Blitz
---
In December 2019, Big Blitz opened for Tim Reynold's electric power trio - TR3 at the Thunderbird Cafe and Music Hall in Lawrenceville, PA. ​ You probably know Tim from his amazing and lyrical lead guitar work with the Dave Matthews Band. In fact, Tim has played on nearly all DMB's CDs and continues to tour with the band. TR3 has been killin' it since the mid 80's.
---
Big Blitz at the 2020 Jet Stream Fest
---
Big Blitz was proud to be Pittsburgh International Airport's selected performer for the 2020 Jet Stream Music Festival. The festival included over 23 national airports with virtual live performances of each airport's favorite and most popular local musicians.
---
Big Blitz releases new single "Double Barrel"
---
On May 15, 2020 Big Blitz released their newest single "Double Barrel" on Bandcamp. The song was created and recorded in early 2020 using some extra studio time while the band was recording two new EP's. In total, it took about 40 minutes to write and record the tune. Recorded at Red Caiman Studios Artwork by Zachary Rutter Art
---
Pittsburgh City Paper recognizes Double Barrel as a notable release
---
The May 18, 2020 edition of the Pittsburgh City Paper recognized Big Blitz's newest single " Double Barrel" as a notable release. "Big Blitz is the type of band that's best enjoyed live, but that's not possible at the moment (due to covid-19). So, the noise-jazz group released "Double Barrel," which was recorded Red Caiman Studios earlier this year in "basically one take," according to their Bandcamp. It's upbeat, funky, and infectious" - Jordan Snowden See the full article here.
---
Big Blitz "Car Alarm" video goes viral on Reddit
---
In 2018, Big Blitz created an entry for Too Many Zooz's car alarm challenge. The video was one of the most popular posts on the Big Blitz YouTube page for many months. On Friday, August 7th, 2020 our car alarm video was posted by one of our fans on Reddit. It soon beacome the top video of the day with over 325k views and 45k up votes. We are so thankful for the views and supportive comments we have received. Check out the video!
---
Big Blitz "Live from the Living Room" weekly livestream
---
In July of 2020, Big Blitz started a weekly live webstream called "Live from the Living Room." This ongoing series has multiple episodes that allow Big Blitz to communicate directly to their fans through live music performances, chat, improvised musical requests and theme nights. Check out - Live from the Living Room - Light up Night!
---
Big Blitz appears in India's Hindustan Times
---
Big Blitz's #caralarmchallenge youtube video was featured in an August 8, 2020 article in India's Hindustan Times. The Hindustan Times is an Indian English-language daily newspaper with a readership of 3.8M. We're so thankful for so many new followers and comments on our social media! Special shout-out to TOO MANY ZOOZ for creating this challenge back in 2018! Check out the Hindustan Times article
---
---